error_outline Only administrators can perform this action
In the settings of your school, you are able see an overview of all deleted users within your school. All information is anonymized. For deleted employees, you will see for example 'Removed staff' and the date in which they were deleted. For students, you will see 'Removed student', the student ID and the date in which they were deleted.
Administrators have the rights to restore removed users. Users that are deleted after the release of February 19th, 2023, will remain in the Removed users tab at the school settings for 180 days. After this time, they will be permanently deleted. For any users that were deleted before February 19th, 2023, they will remain in this overview for a time determined by your institution.
To view or restore a removed user, follow the steps below.
Click the domainSchool name in the menu on the left.
Click settingsSettings in the menu at the top.
Click Removed users in the menu on the left.
Search for the user that you want to restore and click Restore.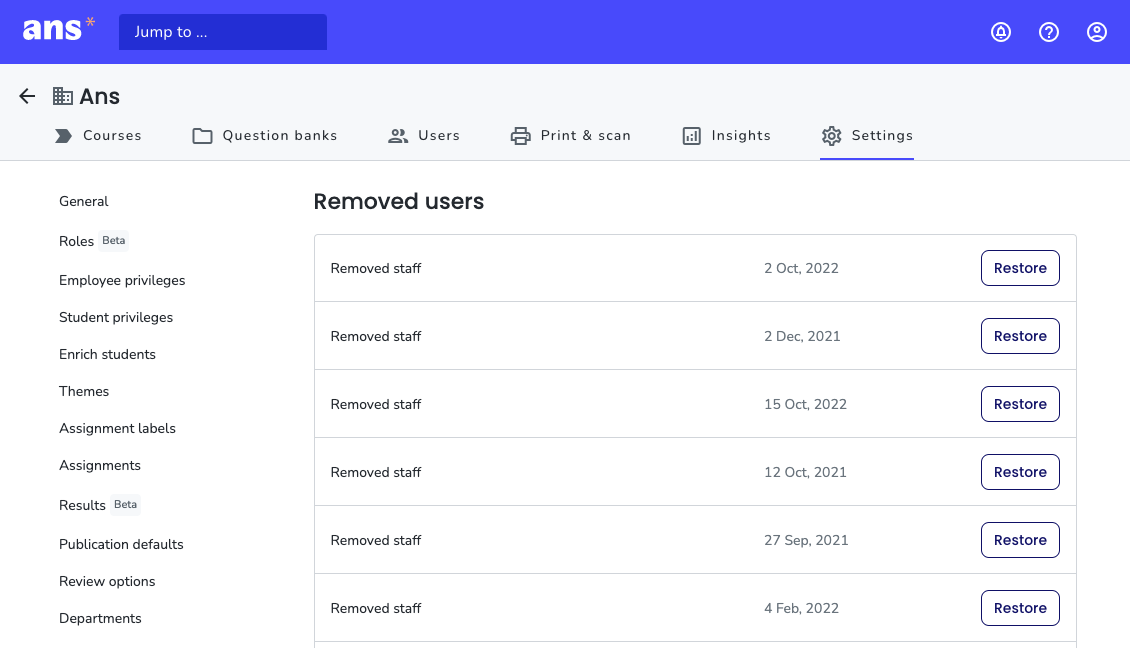 When restoring students, Ans will check if the student ID can be found in the removed users. If so, the student is restored and all courses, assignments, results and other relevant information are restored. For employees, Ans tries to match the email address, which is stored in the database. If the email address can be found, the employee will be restored. This can only be done if the email address is a validated email address of an activated account.