Once you have created your question bank exercise, there are different options available. Below you can find a quick overview of all these options, with links to the corresponding articles.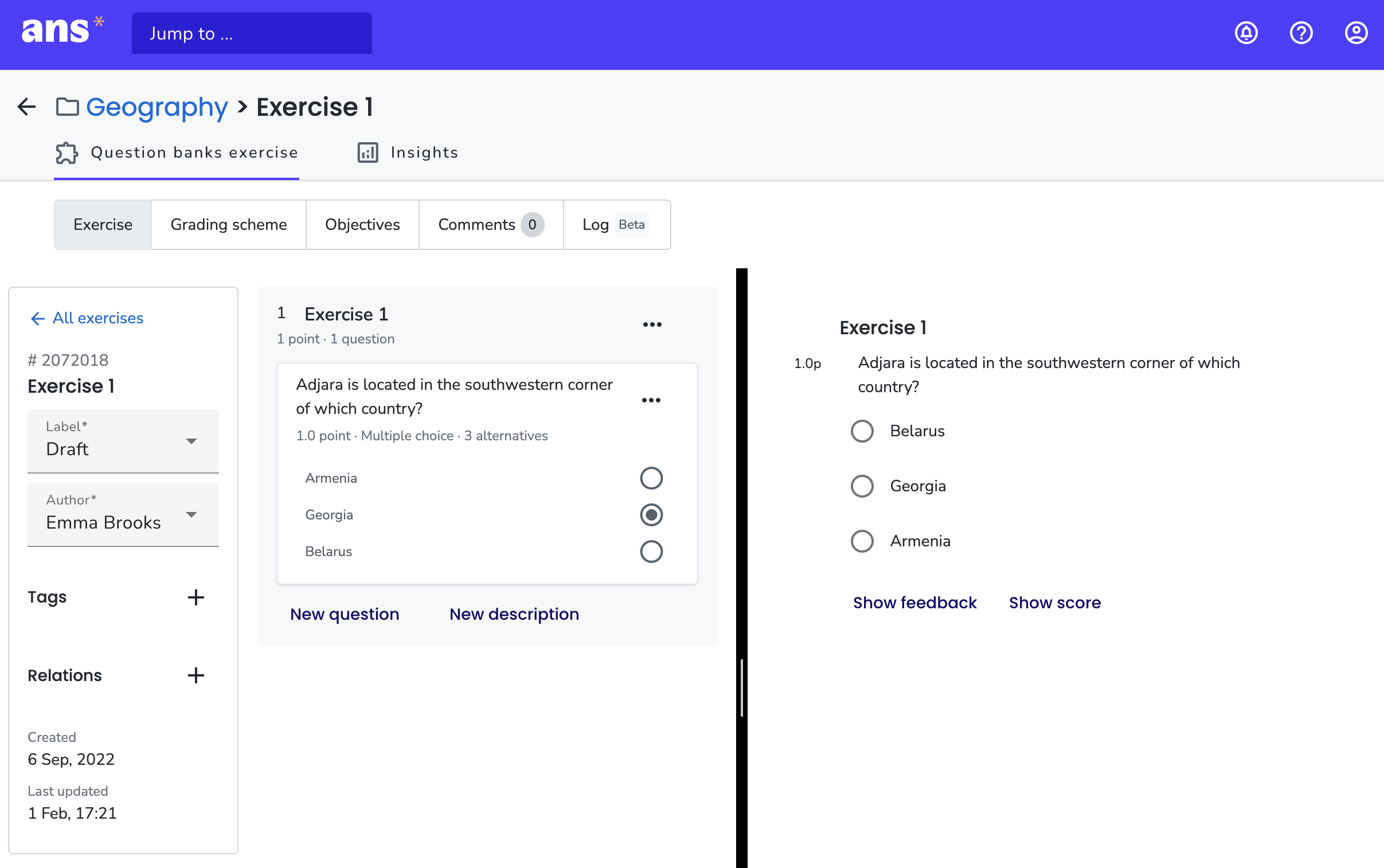 Metadata for a question bank exercise
On the left side of the question bank exercise page, you have the option to attach different types of metadata to your exercise. This is also where you will see general information about your question bank exercise. For example, the name of the exercise, the date of creation and the date it was last edited. The following metadata can also be added here:
Edit your question bank exercises
When opening your question bank exercise, you will see the general overview page of the exercise. The following actions can be taken on this page.
Adding descriptions and questions to your exercise
To build up your question bank exercise, you can start by adding description(s) and questions. You will be able to choose between question types for a digital test. When you create a written assignment from your question bank assignment, these questions will automatically be converted to question types that are supported in a written assignment.
Adding a grading scheme to your exercise
In this article we explain the different grading methods and how they can be used. Once you plan your question bank assignment into a course, the grading schemes of all the exercises will be added to the planned assignment.
Attaching objectives to your exercise
Once you have added domains and objectives to your question bank, you can link them to questions within your exercises.
Leaving a comment on your exercise and assigning this to contributors
Within a question bank exercise, you can collaborate with your contributors by leaving comments and assigning these comments to them. This allows you to have multiple people checking and confirming the validity of the exercises.
Viewing the exercise history
In a question bank exercise, you can view the history of adding, editing and deleting content. You will see who changed something, what they changed and when they changed it.
Insight on your question bank exercises
Within each exercise, you can view the insights to gain more knowledge on student performance over multiple assignments. This enables you to adjust the exercise if necessary. You can see the insights on the specific questions within your exercise and to which assignments the exercise has been added. Read more on the question bank exercise insights in this article.