In order to ensure that users can only access what they are allowed to access, roles and permissions can be defined within Ans. They can be defined on multiple levels:
School level

Course level

Question bank level

School level
Within a school, users can have different roles and permissions. Ans distinguishes between employees and students. There are four different roles for employees. Employee privileges are also based on the permissions defined in the employee privileges settings. It is also possible to create customised roles within your school and permissions through custom roles. There is only one role for students. Student privileges can be defined in the student privileges settings.
Administrator
Administrators can create, view, modify and delete content on a school level. In addition, this role has access to all settings of the school, reports and administrative data such as invoicing. They can view and edit all question banks and their content connected to users within their school. Administrators can view employees and students and easily change the roles of employees. Administrators are also able to make changes to the employee privileges options.


Department administrator
Department administrators can create, view, modify and delete content on a department level. They have access to the content of the users and the settings of the department. They also have access to all question banks connected to the users within their department. This means that if a user in their department shares a question bank with a user from another department, they will be able to see this question bank as well.


Repro
Repros can print & upload scans for paper exams. This role only has access to the print & scan functionality of the platform.


Staff
The staff role is assigned to employees by default. They have the ability to create, view, modify and delete content in a course. This is also based on the role of the user in the course. For more information about course roles, see roles in a course.


Student
The student role is assigned to all students by default. They have the ability to view their assigned courses and publications and to take and submit their assignments. A student can receive extra permissions in a course if necessary, for example as a teaching assistant. For more information about course roles, see roles in a course.

Course level
Within a course, staff members can receive one of three roles: Instructor, Invigilator or Reviewer. It is also possible for students to receive a staff-level role in a course. For more information about course roles, see roles in a course.

Question bank level
The roles of users in a question bank can differ from roles in a school. Administrators and department administrators have the same roles and permissions as in a school. For staff, two separate roles can be defined: Publisher and Author. For more information about question bank roles, see roles in a question bank.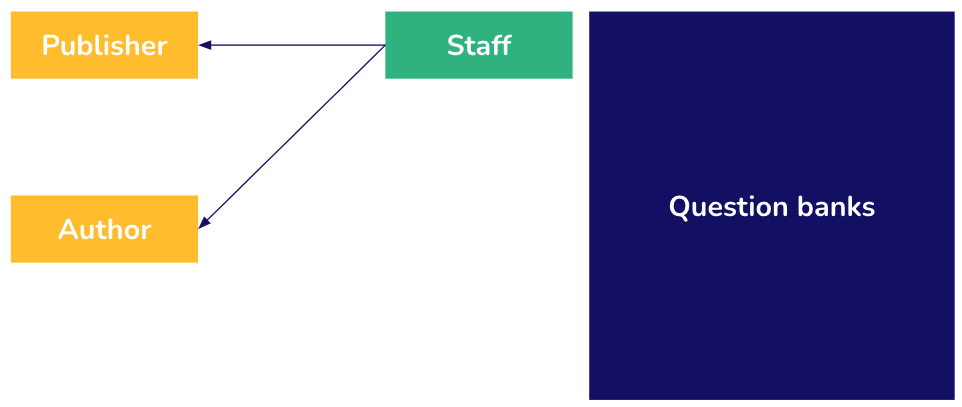 Definition of default and base roles
Default roles: Default roles are the standard roles which are enabled for schools by default. The default roles are: Administrator, Department administrator, Staff, Repro Instructor, Invigilator, Reviewer, Publisher and Author.
Base roles: Next to the default roles in Ans, there is the option to add custom roles to the platform (If your school has enabled the beta feature 'Custom roles'). This gives you the benefit of adjusting the access and functionalities for different types of users within the platform. The custom roles are based on the base roles within Ans. This means that the base role determines which hierarchical level in the platform the user is allocated to. For example, if you create a role that is based on the administrator role, the new role will have access to the whole school interface. The exact definition of what can be accessed by the new role is defined by using the toggle options in the custom role menu. You can read more about custom roles here.