The following article is to inform you of feature updates, user interface changes and bug fixes of the latest release on our production environment (ans.app).
Changes to the platform
Archive assignments and results
Summary: In addition to archiving results, you can now also archive the assignment. Currently, the following information of assignments will be archived:
Questions
Grading scheme
Objectives
Flow
Taking screen
General settings
Review options
Timeslots
Attachments
Accessibility
Requirements
Assigned reviewers
Publication



The following information has not been included yet:
Prevent restoring results
Prevent changes to integrations
Prevent participants taking the assignment
Benefits: This feature allows you to archive all results and all contents and settings of a planned assignment, ensuring no (unauthorised) changes can be made.
Additional information: Archiving and unarchiving is done from the general settings of the assignment in the Danger zone section. The beta feature archives both assignments and results and has been renamed 'Archive assignments and results' for this reason.
Hide extra time in student overview if user isn't allowed to change this
Summary: The extra time column is now hidden in the students overview for users that don't have permission to change the extra time setting
Benefits: This limits the information shared with employees members that don't need to know about the extra time provided to students. Only administrators will be able to view and change the extra time settings in the students overview.
Additional information: This change does not impact the extra time column in the learners section of a course. This change only applies if the beta feature 'Extra time' is enabled.
Changes to filters
We have implemented four improvements to filters in the platform.
Improved the visibility of activated filters
Summary: Improved the contrast between active and inactive filters.
Benefits: It is now easier to see whether a filter is active.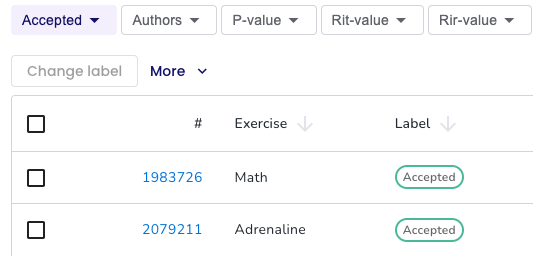 Removed class filter in the user overview
Summary: We have removed the class filter from the student menu in the user overview.
Benefits: This will help with better controlling access to classes.
Additional information: Classes remain visible in the classes overview.
Removed the item 'reviews' from the reviews filter menu
Summary: Removed the item 'reviews' from the reviews filter menu. The reviews filter can be found in the results overview of an assignment.
Benefits: This was a non-functional item in the menu which we removed.
Additional information: The reviews feature is available through beta features so this should be enabled first.
Added thousands delimiters to counters
Summary: Added a dot to group digits in thousands for all the counters in the platform. For example for the amount of users.
Benefits: Counters with more than a thousand objects will be easier to read.
Additional information: As delimiter we use a dot, following the continental European standard.
Alumni has been released to open beta
Summary: The alumni feature has been moved to open beta. With this feature, it is possible to mark users as alumni in the interface. This means they won't be shown in the general users overview, but hidden behind a filter.
Benefits: Marking students as alumni can be helpful if you have alumni that you are required to keep data of for a period of time, but you would like to hide their accounts in user overview. By making use of the student filter in the user overview, you can filter on students or on alumni.
Additional information: Alumni are still included in any counters related to users in the platform. Additionally, we have renamed 'Uitstromers' to 'Alumni' when using the platform in Dutch.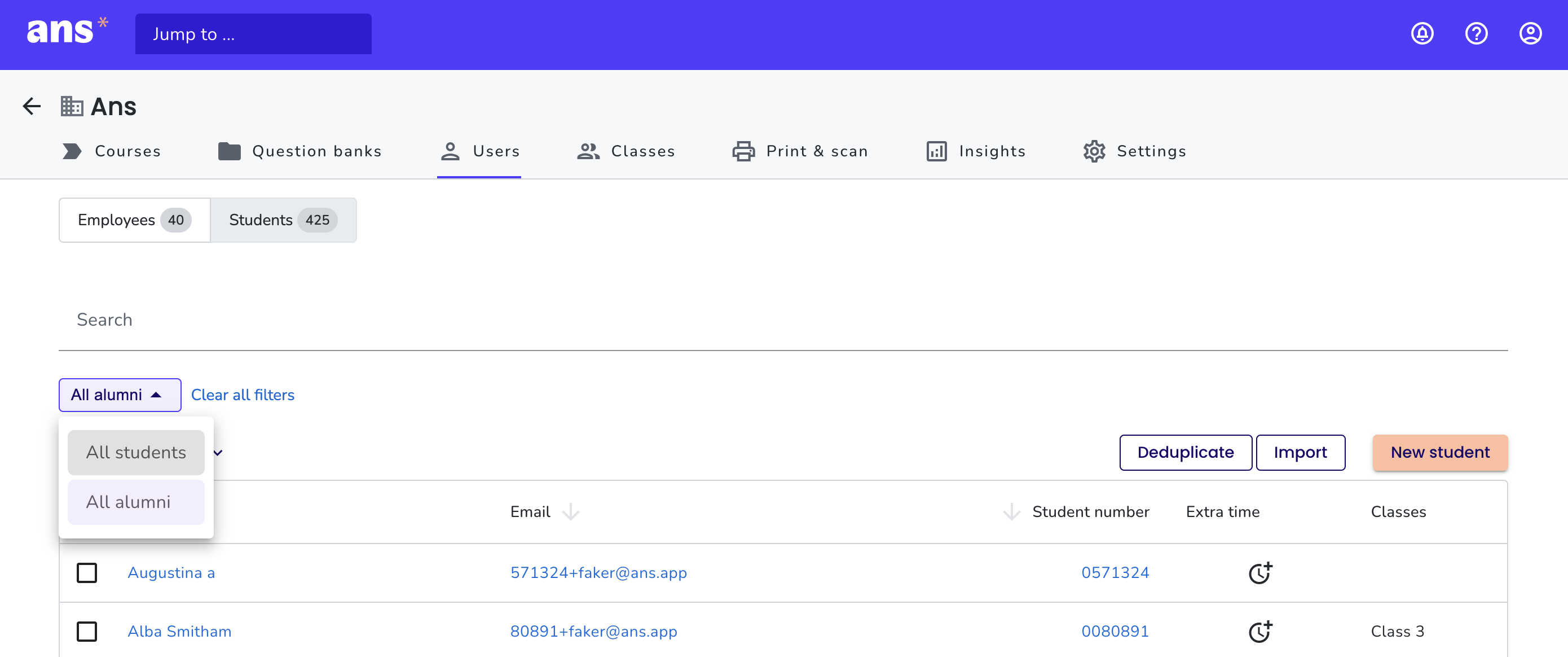 Receive notifications when users reply to your comment or flag
Summary: The creator of a comment will receive a notification for each reply to the comment.
Benefits: This improves the workflow for comments and flags, so that users are notified of any responses timely.
Additional information: The notification will only be sent to the original author of the comment or flag.

Blocked email addresses are now unblocked after 24 hours
Summary: It may be possible that some email addresses within your school are blocked by Ans. If an automated email, for example to notify students that a publication has started, is sent to an email address which does not exist, the email bounces. To prevent our mailserver from being blocked by our supplier, the email address is blocked after 10 bounces within an hour. At this moment, we unblock the email address at irregular time intervals. This has been set to 24 hours.
Benefits: It is now clear when an email address is unblocked by Ans.
Exporting a class has been moved to a background job
Summary: Previously, the exported classes file was sent directly to the user via email. This has been moved to a background job. You can download the export file from within the platform.
Benefits: As the class export contains personal data, the export is preferably not shared via email. Therefore, the export has moved to background jobs so it is now only possible to download your export from within the platform. This better complies with the GDPR regulations.

Logs feature additions
Summary: In the release of October 16th, we moved the logs feature to open beta. We have now added reviews of question bank exercises to the question bank exercises log.
Benefits: More consistency between reviews of question bank exercises and reviews of results.
Additional information: The question bank exercise log is incorporated in the beta feature 'Logs'.

Renaming of multiple elements in the platform
Summary: Based on your feedback, we are working on multiple interface inconstancies and improvements. Below you can find the element(s) that have been renamed, including the place in the platform where it changed. The change is applied to all translations of the platform unless indicated otherwise.
Renamed 'Rect' to 'Rectangle' and 'Poly' to 'Polygon' in hotspot and hotspot match questions.
Bug fixes
Restored date formatting to include year on the cover of a written assignment.
Fixed an issue where reverting the points granted with slider would make the result log inaccessible.
Fixed an issue where participants couldn't access their digital test with ProctorExam.
Fixed an issue where proctoring settings wouldn't copy when using templates or copying a digital test.
Improved the position of the Readspeaker tool in a digital test.
Fixed the display of participants in the taking page summary.
Fixed issue where the link to question insights of an assignment from the question bank exercise insights didn't work.
Fixed an issue where the attachment would not automatically show when DocReader was enabled.
Added the page height of an answer field to the exercise log.
Fix issue where students are unable to view an exercise attachment when view exercise once is enabled.
Fixed an issue where the timestamps of open question answer versions wouldn't show.
Fixed issue where students could access an assignment before ProctorExam started the recording.
Fixed an issue where searching question bank questions did not return any results.
Fixed an issue where having extra spaces in the klass import file would not enroll the students in their classes.
Fixed an issue where invigilators were not able to view Proctorio recordings.
Fixed an issue causing the gaps in a fill-in question to be invalid.
Readspeaker is now enabled by default when participating in a digital test.
Update date and time format in export files.
Fixed an issue where employees were able to edit their email in the user settings even if it was disabled in the university settings.
Fixed an issue where attempting to generate forms for classes would immediately close the dialog.

Fixed an issue where attempting to retrieve criterium from a coding assignment with the API would result in an error.

Fixed an issue in the French instruction confirmation email where the email would appear incorrectly.
Fixed an issue where not all assignment types supported uploading files to results.
Fixed an issue where unreadable email addresses would not get correctly parsed.
Fixed an issue where assigning reviewers does not work when changing the language to French.
Fixed an issue where attachments (in assignment settings) were not visible to invigilators.
| | | |
| --- | --- | --- |
| Version | Date | Information |
| v1.0 | 28-11-2022 | Initial version |