error_outline
This option is available through beta features, read more about beta features here.
error_outline
A licence is needed for the Schoolyear integration. This can be received by contacting Schoolyear.
Once the Schoolyear integration has been configured, you will first have to create a timeslot for the test before being able to configure Schoolyear for your digital test.
Follow the steps below to enable Schoolyear for your digital test.
Click the domain School name in the menu on the left.
Click label_important Courses in the menu at the top.
Select your course or use the search bar.
Select your assignment or use the search bar.
Click on settings Settings in the menu at the top.
Click Integrations in the menu on the left.
Click Enable next to Schoolyear.
Configure the settings that apply by clicking on View.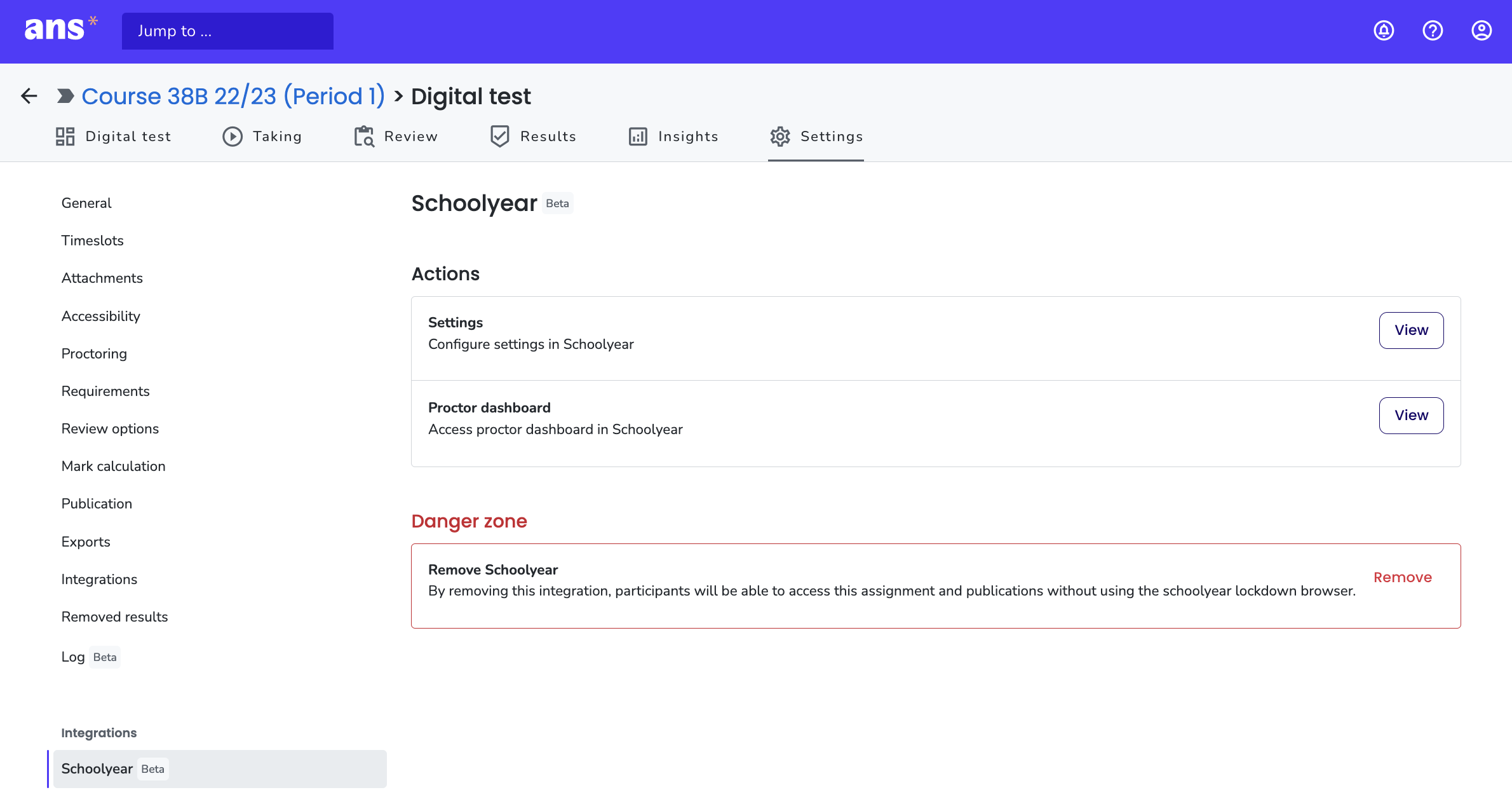 Configuration settings
URL to allow
Add any URLs you want students to be able to visit within Schoolyear. By switching on the blue toggle, all pages on the website will be allowed.
Enable red screen block
Configure whether Schoolyear is allowed to collect data to the detection of fraud and abuse of the secure testing environment. Types of information collected may include: navigation between pages and websites within Schoolyear's environment, the use of short-key combinations and other data required to detect and report suspicious actions.
Enable Spell Check
If spell check is allowed, students will be able to see red lines underneath spelling errors for both open questions and fill-in questions. This option uses the built-in spellchecker of the browser. This is not a spellchecker provided by Ans. We recommend to only enable Spell Check if spelling is not a criterion for the test.

You can read more about Schoolyear specifications here.