error_outline Please be aware that our step by step guides may not be up to date. We advise you to refer to the instructions for students section of our help centre.
In the previous step, your learnt how to find your assignments. In this step you will learn more about the possible requirements and restrictions for taking your digital test.

It could be that your teacher has added certain requirements and restrictions in order for you to begin your digital test. This may include if the test requires a password, if the test needs to be taken from a specific location or if you need to have completed a previous assignment before you can begin this assignment. If this is the case, you can view these under the assignment Description tab at your digital test. This can be viewed even before taking the test.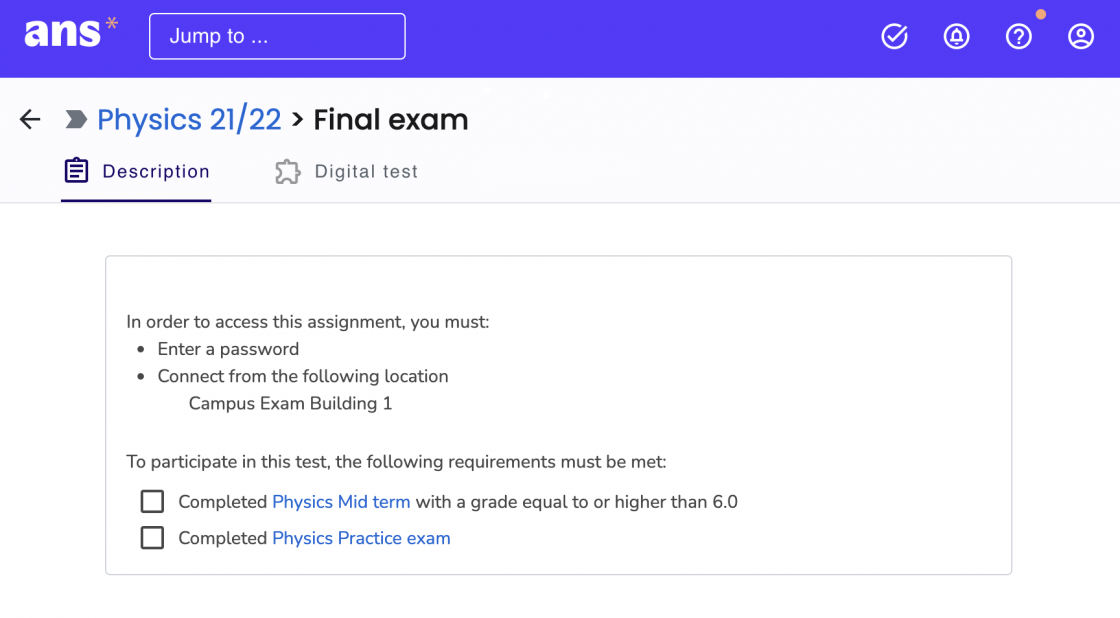 Requirements
Password
Once you have clicked on your digital test, you will first need to fill in a password to access the assignment.


Safe Exam Browser
The Safe Exam Browser software turns your computer temporarily into a secure workstation. It controls and restricts access to system functions, other websites and applications and prevents unauthorised resources being used during a digital test. Before you can make use of Safe Exam Browser, you first need to download the Safe Exam Browser software on your laptop.


Proctorio
Proctoring will record you and your screen during the digital test. With these record options, information on fraudulent and suspicious behavior is collected. When this requirement option is enabled and you have selected your digital test, you will be redirected to the start page of the test. One hour before the start of the test, you can click on Launch Proctorio to install the extension. You can read more about Proctorio here.
Restrictions
Restrict assignment access locations
If this restriction option is enabled, you need to connect from the designated location in order to access the digital test. This may be a certain building or examination hall at your school.
error_outline System Requirements: Ans supports the two latest versions of Chrome, Firefox, Safari and Edge.