Reviewing a question is possible when the exam is finished and the files are scanned/uploaded if needed.
Click

on your course or use the search bar in the Courses-section.

Click on your assignment or use the search bar.

Click Review in the menu at the top.
There are multiple review methods. Choose one. Read here about the different review methods.
When a question is selected to review, the review-screen is entered.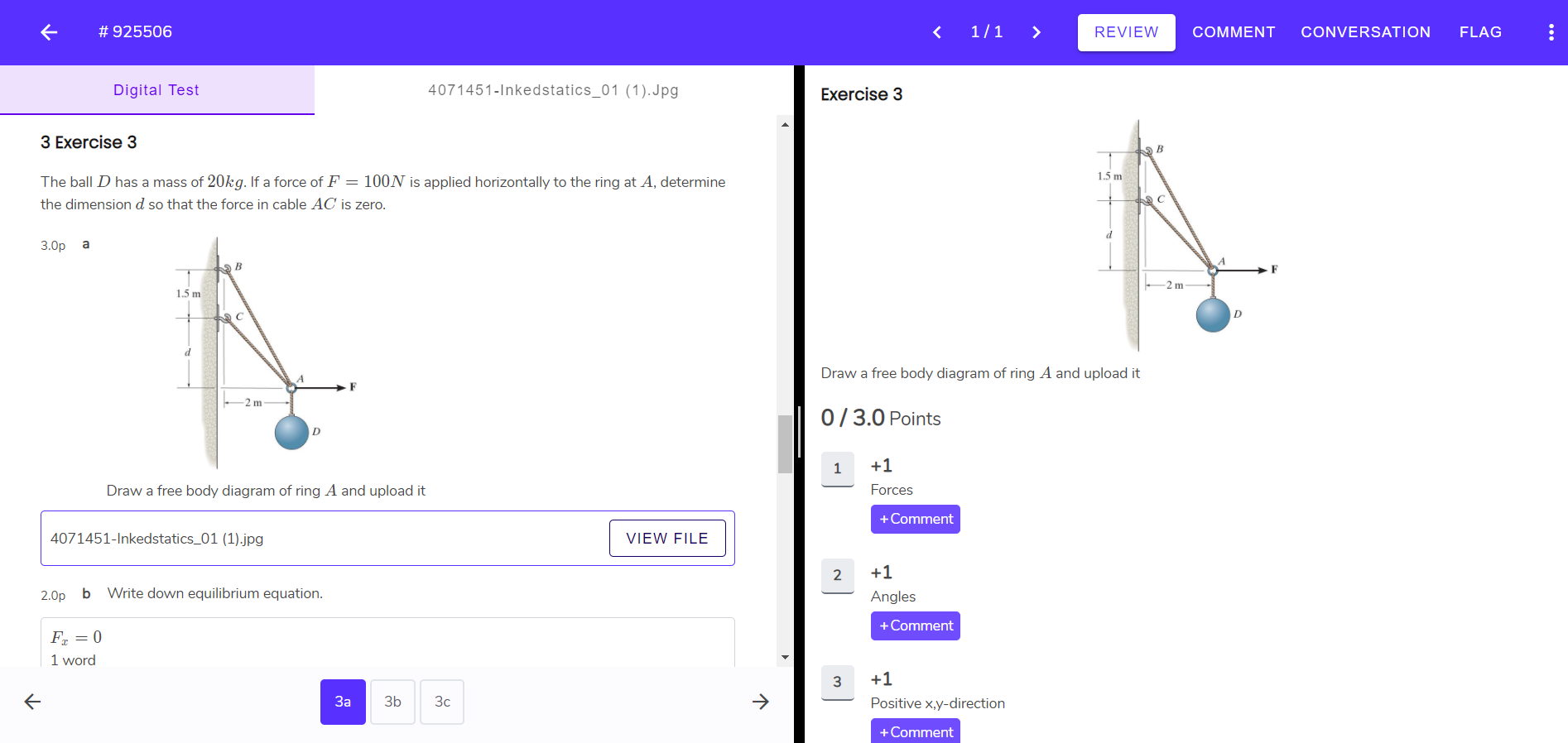 Top menu
The arrow_back-icon: go back to the Review-page.
The keyboard_arrow_left x/y keyboard_arrow_right-icon: switch between students.
Review: here you can review the student's answer.
Comment: you can place a comment for the student to give feedback on their answers.
Conversation: when students have the ability to start a conversation, the messages of a student of this question will be displayed.
Flag: add, edit or delete flags. You can make use of flags when you want to highlight the question of this student. A comment can be added to the flag.
The more_vert-icon: here you are able to edit the grading settings.
Bottom menu
The arrow_back-icon: go to the previous exercise.
Subquestion buttons: click the button to go the subquestion
The arrow_forward-icon: go to the next exercise.
Review a question
All criteria are uncoloured when reviewing starts, this is an unsaved state. If a criterion has been met, click the criterion to let Ans know that the student should get the points for this criterion and the system will automatically save your changes. The criterion will turn green when clicked. When no criteria are met, make sure to click None of the above, to save the reviewing as in the example below. When grading with a slider or rubrics, it is possible to click Undo grading to set your grading back to zero points. It is also possible to check the criteria with the help of the keyboard. Press 1 to enabled the first step, 2 to enable the second step, etc. For enabling all steps at once, press the space bar.
Review with keyboard shortcuts
Navigation
Arrow pointed left: previous question.
Arrow pointed right: next question.
Enter: next question.
Review
1, 2, 3, ... : toggle criteria.
Spacebar: toggle all criteria.
0, § (Apple), ~ (Windows): toggle "None of the above".
f: view flags.
Tip: Read here how to create quick comments in your profile.