warning Note: This type of question is only available for digital tests.
This type can be selected to let the student answer with an equation. Also feedback will be provided if the equation solver is used when a student answers wrong, as seen in the image below. Grading of this question can be done manually or by using the equation solver.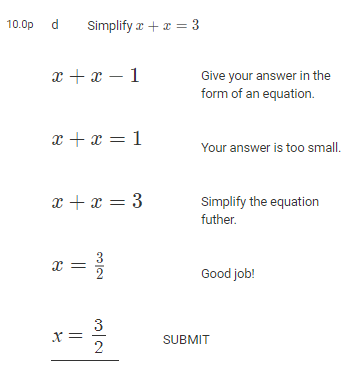 How to create an equation question
Sign in to Ans.

Create an assignment.

Read here how to create an assignment.
Click Add exercise and give the exercise a title.
Click Add question and select Mathematical equation.
Fill in the question description and choose a review method by clicking the drop-down menu.

Review manually
Use equation solver:

Click the Pencil-icon and write the equation.
Select an equation operation in the drop-down menu:

Solve: solve the given equation for a specific variable. This variable should be given as well.
Simplify: simplify the given equation to the smallest shape.
Expand: expand the given equation. This is done for equations that contain brackets. The result will be an equation without brackets.
Factor: this operation is the opposite of expanding. The given equation will be written as an equation with brackets.
warning Note: The answer to the operation does not have to be given, while it is calculated automatically with the operation chosen. The student will have an infinite amount of attempts for this type of question.