When making a test, it is useful to know how a question performed in a different exam or test. This helps making the choice to either use a question or not. You can perform this analysis by using the filter options of a questionbank.
Filtering
In a questionbank, the filter options can be used to select a question that fits your exam. The following filter options can be used:
Label: The label (or status) of a question tells you if the question is reviewed and what the outcome was. Questions can have the following labels:

Draft
Review needed
Revision needed
Accepted
Accepted locally

Author: The author tells you who created this question.
Objectives: When a question bank yields objectives, these can be selected here.
P-value: The p-value indicates the difficulty of the question. A p-value closer to zero means that a question is difficult, while a p-value closer to 1 means a question is easy.
Rit-value: The relation of the question to all other questions in the test. The higher the Rit-value, the better the question fits the test.
Categories: This filter lets you choose between different types of questions, e.g. open or multiple choice questions.
Tags: A tag can be added to a question to label it and increase findability.
Further analytics
When a more in-depth analysis of an exercise is wanted, one should go to exercise analytics.
Sign in to Ans.

Click

on your questionbank or use the search bar in the Questionbanks-section.
Click on Assignments in the menu at the top.
Click on the assignment you want to see the analytics of and click Insights in the menu at the top.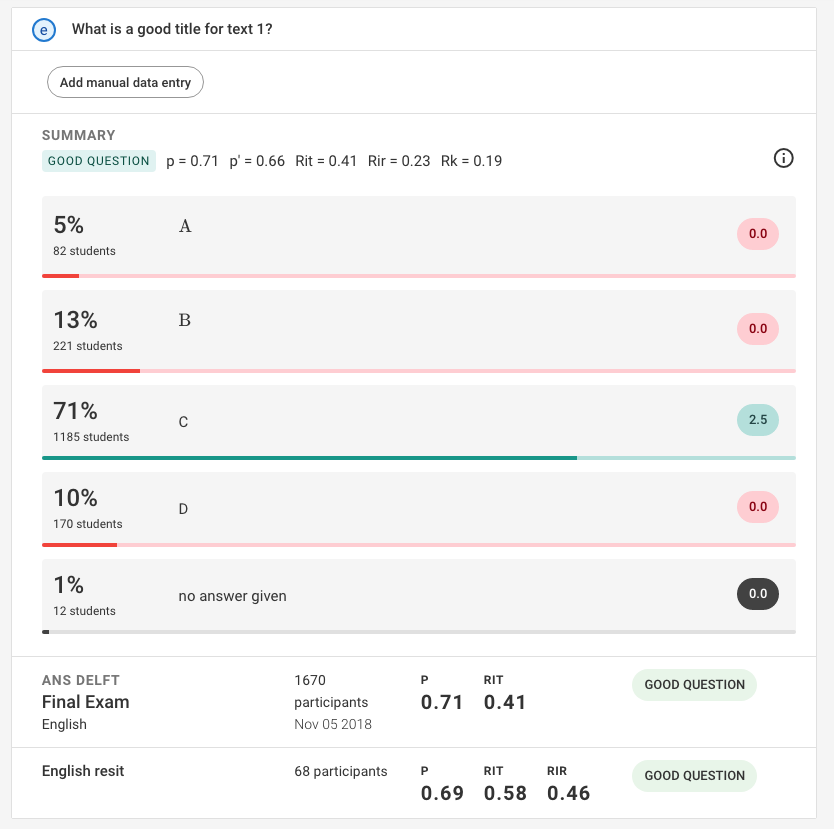 In the list, four values (of multiple examinations) are shown and combined into a conclusion. The number of participants is how many students made this question. The p-value indicates how difficult the question was, a high p-value indicates an easy question and a low p-value a difficult question. The Rit-value indicates the relation between the score of students on this question and on the test in total. A low Rit-value indicates that a question does not distinguish between students with a high overall score and a low overall score. The Rir-value indicates a relation between the score of students on this question and on the rest of the test (so the total score minus the score on this question). The conclusion shows if the p-, Rit and Rir-values indicate a difficult question, good question, a question that needs attention or if it does not have any results.