error_outline
At this moment, this option is only available through the closed beta. An administrator from your school can contact support@ans.app to make a request to enable this feature.
In the review overview, there is the option to review the students for a second time. The second review is only visual. The grading made during the first review is always the grading that is published and shown in the results of the students. Some benefits of a second review include:
Review each student twice

Discover grade differences

Insights in agreement
To enable this setting, follow the steps below.
C

lick the domain School name in the menu on the left.
Click on label_importantCourses in the menu at the top.
Click on your course or use the search bar.
Click on your assignment or use the search bar.
Click settings Settings in the menu at the top.
Click Review options in the menu on the left.
Enable Second review.
Click content_paste_search Review

in the menu at the top.

Click the drop down menu First review and select Second review.
You can then start a second review.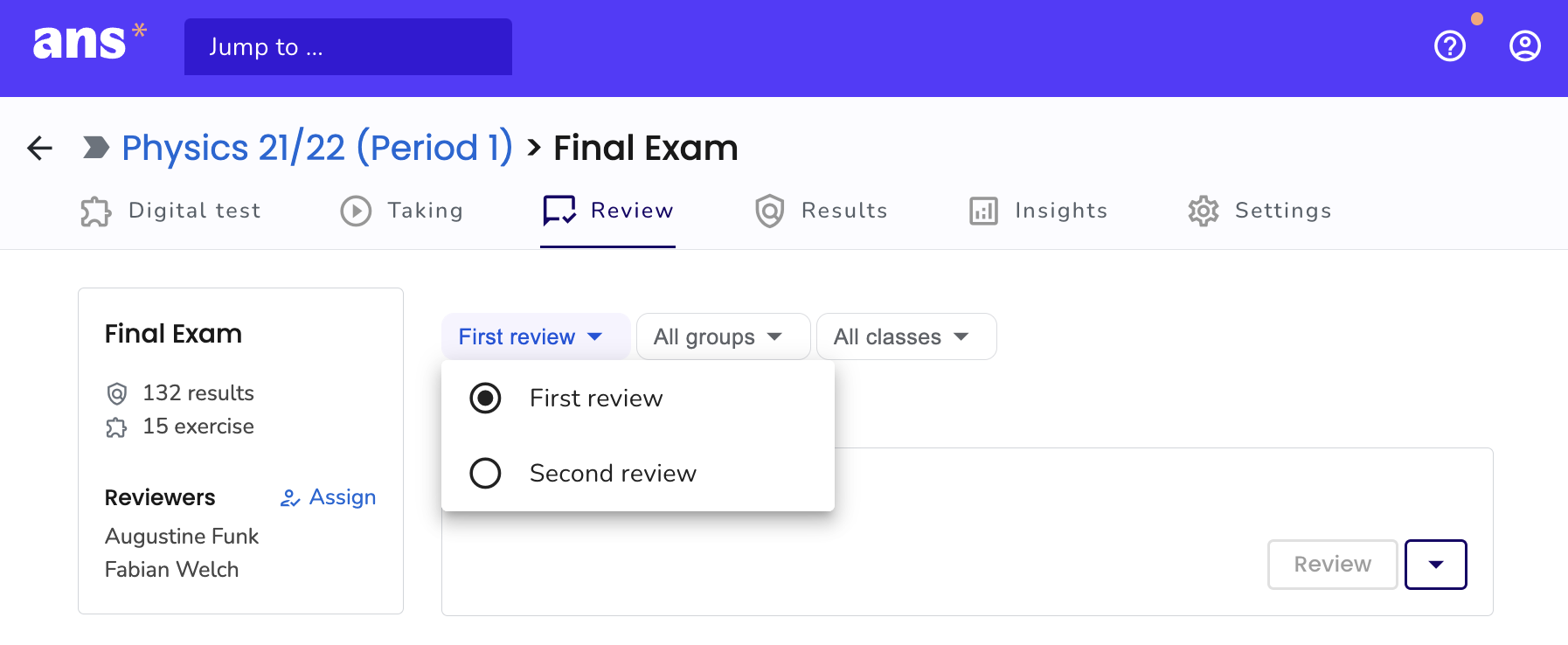 Reviewer reliability
If you use the second review, Ans will show an additional option in the Insights menu: Reviewer reliability. In this menu, a matrix of all reviewers is shown. Per combination of reviewers, Ans shows the reliability in percentages. Ans compares the scores given by a reviewer and these are compared with the scores of each other reviewer. When the percentage is 100%, both reviewers gave the same scores in all cases. When the percentage is 0%, none of the given scores was the same.
lightbulb_outline
This feature is currently in development. You can stay up to date with the progress by visiting our roadmap. If you are already using this feature, we would love to hear your thoughts. You can leave them
here
. After ranking how important the feature is to you, you can leave a comment.